Latest Issue!
Summer 2019
Spring 2019
Spring 2019
Winter 2019
Winter 2019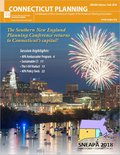 Fall 2018
SNEAPA 2018 Issue
Spring 2018
Spring 2018
Special Issue
Winter 2018
Summer 2017
Summer 2017
Connecticut Planning
CONTRIBUTIONS WELCOMED
Connecticut Planning is published quarterly by the Connecticut Chapter of the American Planning Association. Contributions are encouraged. Submissions must include the name and contact information of the contributor. Material may be edited to conform to space or style requirements. Please address submissions to Executive Editor Amanda Kennedy, AICP at akennedy@seccog.org.